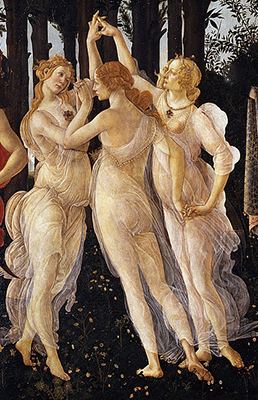 Art expresses humanity's deepest aspirations and hopes. It reflects on life and death, creates harmony and beauty, and confronts darkness, suffering, and chaos. Both our quest for meaning and our struggle with meaninglessness are palpably present in the great works of art.
"A good painter has two chief objects to paint, man and the intention of his soul; the former is easy, the latter hard… The most important consideration in painting is that the movements of each figure expresses its mental state, such as desire, scorn, anger, pity…"  Leonardo da Vinci, Notebooks.
By revealing human emotions and desires, art inspires us to look closely at ourselves and our place in the world. The galleries below feature great artists' imaginative responses to humanity's search for meaning.
GALLERIES:
| | | |
| --- | --- | --- |
| GOLDEN AGE AND EARTHLY DELIGHTS | HEART OF DARKNESS | TRIUMPHS AND FALLS |
| | | |
| MEMENTO MORI | HARMONY AND GRACE | AT THE CROSSROADS |
| | | |
| BEAUTY | LIFE SEASONS | THE LIGHTER SIDE OF LIFE |
| | | |