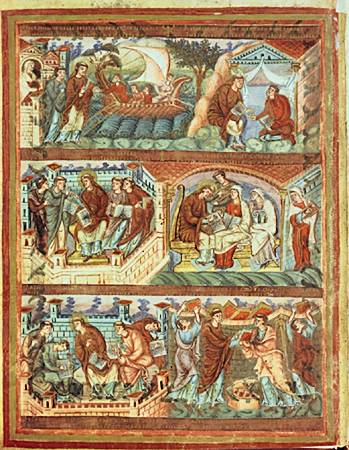 Some course projects encourage students' active involvement with historical and intellectual traditions (Reflection Papers, Collections of Questions and Quotes). Others focus on personal values, goals, and experiences, suggesting connections between class discussions and life problems students confront (Profiles, Crisis Interviews). 
The epigraph chosen for the course reflects its main goal:  Vitae, non scholae discimus — "It is for life, not for school that we learn." The best student works featured on this site reveal this vital connection between life and learning.    
Meaning of Life Profile 
At the beginning, students answer a few questions about their personal values, goals, and ideals. Throughout the course they revisit their initial answers, identifying the texts which affirm, challenge or completely refute their ideas about life's meaning and purpose. At the end of the course, students submit revised, expanded profiles. 
Questions and Quotes 
Students record their impressions of the texts by collecting and commenting on memorable passages. A quote may be chosen because it rings true or sounds completely absurd; because it is deeply moving or highly controversial, pessimistic or uplifting, illuminating or obscure. 
Reflection Papers
A reflection paper is a thoughtful, engaged, well-written exploration of a key idea of the course. It demonstrates mastery of the material and reflects its depth and complexity. In these papers students may also make connections to contemporary issues and share personal observations.
Crisis of Meaning Interview
Students interview a friend, colleague, or family member who is willing to share his/ her story of crisis and recovery. A crisis of meaning is a turning point in someone's life characterized by a loss of purpose, feeling of pointlessness, rejection of values once taken for granted, or shattering of a familiar self-image.