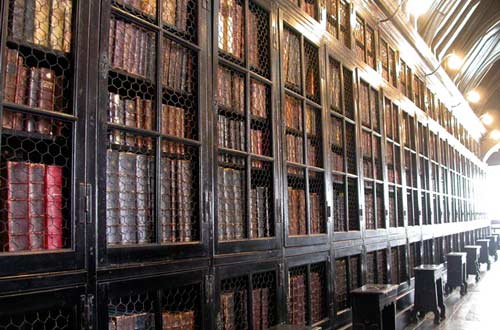 Students record their impressions of the books they read by collecting and commenting on memorable passages. A quote may be chosen because it rings true or sounds completely absurd; because it is deeply moving or highly controversial, pessimistic or uplifting, illuminating or obscure. In short, we record and share passages which spoke to us for some reason or other. We also try to articulate those reasons and ask pointed questions about specific quotes, texts, and ideas. 

The comments may differ greatly in content and style. Here are some examples:
"I returned, and saw under the sun, that the race is not to the swift, nor the battle to the strong, neither yet bread to the wise, nor yet riches to man of understanding, nor yet favour to man of skill; but time and chance happens to them all." (Ecclesiastes, 9.11)
Will virtue, good works, and skill be duly rewarded?
"Don't allow your laughter be much, nor on many occasions, nor profuse." (Epictetus, Enchiridion, 8)
No. I refuse. All the stuff about self-restraint when it comes to grief and sadness, I can understand. But why restrain yourself from joy? I have spent too f***ing long in a joyless void of emotion, and I refuse to go back to that by choice. I will laugh, I will love, and I will live. If that means suffering through sadness, well, I've done it once. I can do it again. And nothing is worth more than my laughter. (Cae Emond)
"Show by a cheerful look that you don't need the help or comfort of others. Standing up- not propped up." (Marcus Aurelius, The Emperor's Handbook, 3)
 I love what this quote says but at the same time, it makes me wonder… is Marcus saying it is wrong to ask for help? Is getting the help and comfort of others a bad thing? What if I love to be comforted by others–is that a bad quality? (Lily Zappulla)
"Contentment and well-being at once become possible the moment you cease to act with them in view, and if you practice non-doing (Wu Wei), you will have both happiness and well-being." (Chuang Tzu, Perfect Joy)
Why does our culture insist that happiness can be obtained through obsessive desire and struggle for it? (Anne Rigas)
"I hear you say, "How unlucky that this should happen to me!" Not at all! Say instead, "how lucky that I am not broken by what has happened and I am not afraid of what is about to happen." (Marcus Aurelius, The Emperor's Handbook, 3:49)
This quote reminds me that I can't control the things that happen to me, but I can rise above them and be a stronger, better person because of it. It's rare that we think about hardships as "lucky" because we forget to look at the good that can come out of them. (Ana Vergara)
Student Collections, Fall 2016
Colin Buckley, Questions and Quotes
Grace Wyszkowski, Questions and Quotes
Student Collections, Fall 2015
Ana Vergara, Questions and Quotes
Helina Dawit, Questions and Quotes
Student Collections, Fall 2014
Cae Emond, Questions and Quotes
Jordan Simons, Questions and Quotes
Lily Zappulla, Questions and Quotes
Mariana Soto, Questions and Quotes
Student Collections, Spring 2014
Anne Rigas, Questions and Quotes 
Elise Kapitancek, Questions and Quotes